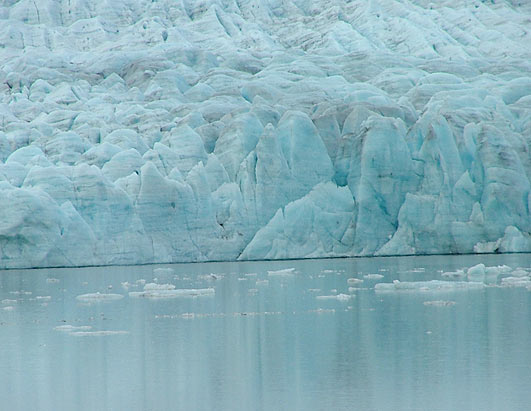 This morning Good Morning America released the 3rd of the
Seven New Wonders
. The clue was "where fire meets ice." The wonder:
Polar Ice Caps
, Iceland.
This one confused me. The other two wonders that were already revealed were man-made places. There were the old Seven Wonders of Antiquity and the old Natural Seven Wonders. I assumed that the "New Seven Wonders" would be of man-made things since the first two were. But their explaination:
Most of the Seven Wonders panelists agreed that the beautiful, disappearing polar ice caps should be one of the new wonders of the world. One panelist saw no wonder in the water, though. "I don't think it's a wonder. It's frozen water," astrophysicist Neil Degrasse Tyson said.

The polar ice caps are clearly a natural wonder. They are stunningly beautiful. But part of me believes they listed it because one day it will disappear. The science of it all is actually a wonder.
The bright white ice of the Arctic regulates the planet's temperature by reflecting solar energy back into space.

The "when fire meets ice" clue is because there are volcanoes underneath the glaciers. This results in some of the warm springs which are popular tourist attractions in Iceland.